'Young people celebrate the power of creativity to combat metal health crisis'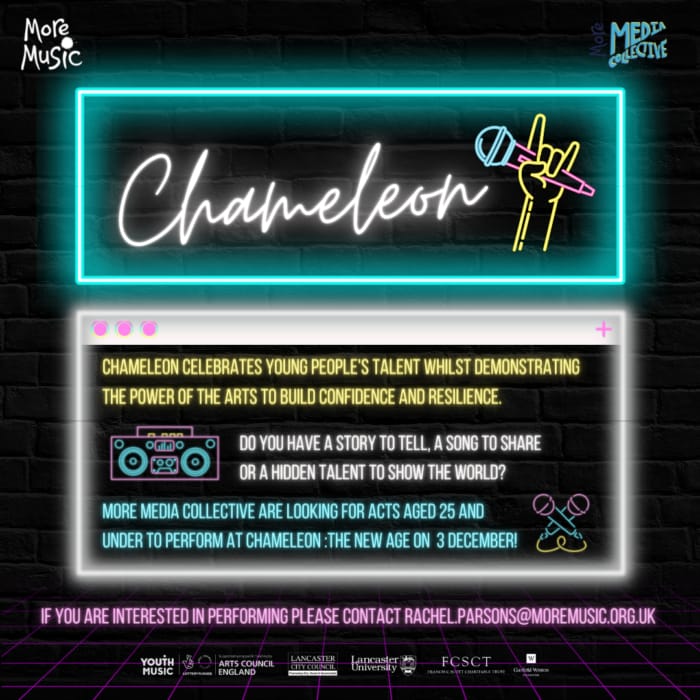 Young people from Morecambe and Lancaster are organising a fundraising event to raise awareness of how the creative arts can support positive mental health. "Chameleon: The New Age" takes place on Friday 3rd December 2021 at More Music from 6pm. Organised by young producers from across the region: More Music's More Media Collective, Lancashire Youth Challenge and the Mental Health Champions Network, the event is in response to the decline in young people's mental health post lockdown.
The event will showcase the amazing talent in the area and is an opportunity to celebrate the magic of coming together again for live events. It will feature live music, dance, film and much more, all performed by young people from across the district.

Research has shown that taking part in creative activity provides a healthy outlet for young people to cope with anxiety, depression and every day pressures. "Chameleon: The New Age" will celebrate young people's talent whilst demonstrating the power of the arts to build confidence and resilience.

If you are aged under 25 and would like to perform, all you need to do is send an email to: [email protected] with information about you and your performance, if you have video or audio recordings please send those along too.

Jack, member of More Media Collective says 'We are passionate about the role creative arts has in supporting young people's mental health and we are looking for acts aged 25 and under to showcase their talents at Chameleon. Do you have a story to tell, a song to share or a hidden talent? Then get in touch!'

Youth Programmes Manager at More Music Rachel Parsons says 'For those of us working with young people there has never been a more crucial time to recognise and raise awareness of these benefits.'